PANNEAU SOLAIRE AVEC COUVRE-JOINT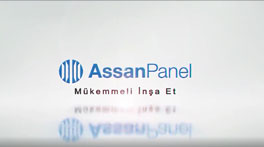 Solar Capped Panel has an exclusive clamp system that ensures fast and easy installation of solar panels without drilling sandwich panel surface.
It eliminates corrosion and water insulation risks arising out of screw holes in buildings to protect structural integrity of roofs and increase building life cycle.
With its design allowing for low-slope installation, it provides cost advantage in steel construction.
With up to 20-year warranty, Solar Capped Panel provides outstanding fire resistance in addition to unique heat efficiency and energy saving.
With improved lighting by daylight and integrated roof solar energy system, it offers a 100% sustainable alternative for buildings.
Special pitch system is compatible with 60-cell and 72-cell Photovoltaic Modules.
It allows for low-slope installation and cost advantage in steel construction.


Information Produit
Maximum Length
Depends on Transport Conditions
Polyurethane/ Polyisocyanurate Density (EN 1602)
40 (±2) kg/m3 / 41 (±2) kg/m3
Polyurethane/ Polyisocyanurate Thickness
Thermal Conductivity (EN 13165)
Dimensional Stability (EN 13165)
Reaction to Fire (EN 13501)
Polyurethane B-s2,d0 / Polyisocyanurate B-s1,d0
Water Absorption (EN ISO 354)
Closed Cell Percentage (EN 14509)
Vapour Diffusion Resistance (EN 12086)
Nouvelles de nous - Contenus Connexes